This post may contain affiliate links. If you buy thru these links, we may earn a commission at no additional cost to you.
---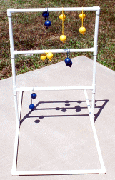 Bolo Toss — also known as Ladder Golf — is an extremely addictive backyard game of skill… similar to horseshoes, but different.
It's a lawn game that is appropriate for all ages, and can actually be played indoors as well as outdoors.
Simply put, you toss a Bolo (piece of rope with a golf ball attached at both ends) toward a Ladder (usually made from PVC plastic pipes) with the hope that it will wrap around and cling to one of the individual rungs on the ladder. Which rung of the ladder your bolo clings to ultimately determine your score, or whether your toss simply "cancels out" your challenger's.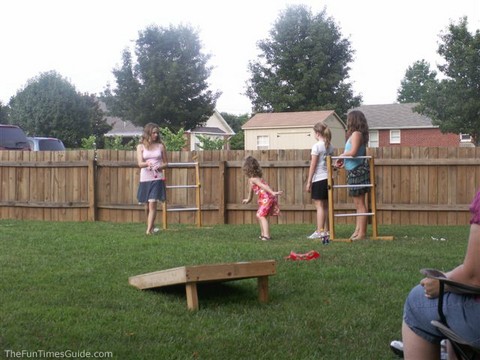 This backyard game appears to have gotten its start at the campgrounds across America. RVers and campers have a special fondness for this unique (and popular!) outdoor game, as do tailgaters.
Like most outdoor games, it's a game of many names. It's also commonly referred to as:
Norwegian Horseshoes, Laddergolf, Snakes, Hillbilly Golf, Polish Golf, Horseballs, Tower Ball, Bolo Golf, Gladiator, Snake Toss, BlongoBall, Ladder Toss, Bolo, Rodeo Golf, Dingle Balls, Cowboy Golf, Redneck Golf, Pocca Bolo, The Snake Game, Willy Ball, Ladder Ball, Slither, Snakes & Ladders, Hillbilly Horseshoes, Flingy Ball, Top Toss, Norwegian Golf, Monkey Bars Golf, Swedish Golf, Polish Horsehoes, Dandy Golf, Montana Golf, Lasso Golf, Australian Horseshoes, Ladder Game, Monkey Balls, Golfball Horseshoes, Arizona Golf Balls, Spin-It, Ball Dangle, Bolo Ball, Poor Mans Golf, and Bolo Toss.
How To Play The Laddergolf Game: Official Rules & Directions
Though this game has many names, most are very similar even though there are slight variations in the rules for each game.
Here are the official rules of play for Bolo Toss and for Ladder Golf.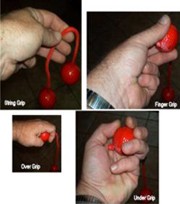 See how to keep score when playing Bolo Toss or Ladder Golf.
For those who are more "visual" in nature, try these online demonstration videos to see how to play this golf ball/ladder game:
https://youtu.be/sK6qBkBmF3U
Want to play Ladder Golf online?… Here's an online version: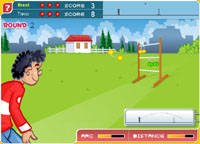 How To Build Ladder Golf/Bolo Toss Ladders
You could probably get all the parts needed to build the golf ladders on your own for under $20. Or, you could buy an already built model for $40 to $70.
How To Make Your Own Bolo Game Toss Balls

While there are many sites offering plans for making homemade ladders for a Bolo Toss game, there aren't many sites detailing the best way to make homemade balls for this game. So, before you make your own bolos, consider this:

For the balls…
You will need three bolo "sets" per team. Each set consists of two balls secured to a rope, for a total of 12 balls.
For children, consider whiffle golf balls — you'll need to "weight" the balls by tying the string to a small washer.

For the string…
To ease the rope through the hole in the ball, first harden the end of the rope by holding it up to a flame for a few moments.

To attach balls to rope…
There are a number of ways to secure the balls to the rope. First, pre-drill a hole 1/2-way or all the way through the ball.
Use hot glue. (Here are 4 ways to do it)
Make a "monkey fist knot". (Here's step-by-step how to do it)
Use hot glue and a screw. (Set the rope hot glue first. When dry, angle a 1/2″ screw through the rope until it's flush with the ball.
Remember, after securing the rope to them, you'll want to paint the balls so that you have 3 "sets" of one color (6 balls) and 3 "sets" of another color (6 balls).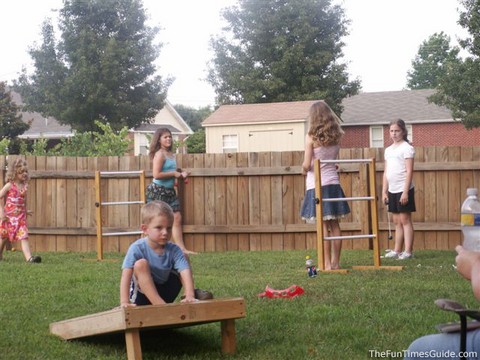 Where To Buy Golf Ball/Ladder Game Sets & Accessories

Ladder Golf Game Sets & Accessories on Amazon

Bolo Toss & Ladder Golf Supplies To Build It Yourself

Bolo Toss Game Sets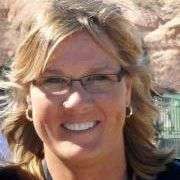 I grew up playing board games and card games. It's a pastime that I've never outgrown. The games mentioned here are great for your home parties, family game nights, camping outings, and RV road trips. (We play some of them on our cross-country motorcycle trips, too.) When I'm not playing games with my friends and family, you will find me at the corner of Good News & Fun Times as publisher of The Fun Times Guide (32 fun & helpful websites).