This post may contain affiliate links. If you buy thru these links, we may earn a commission at no additional cost to you.
---
Hasbro's newest Monopoly Board Game is the "Here & Now Edition".
In short: the classic monopoly game has gotten a facelift. No, wait… I guess it's more like a complete makeover!
They asked people to vote on which properties they wanted on the Here & Now Edition of Monopoly. (More than 3 million online votes were cast!)
As a result, there are 22 new properties…
Blue (High-Rent) Properties:
Boardwalk is now Times Square in New York City
Park Place is now Fenway Park in Boston
Green Properties:
Pennsylvania Avenue is now the White House in Washington, D.C.
North Carolina Avenue is now Wrigley Field in Chicago
Pacific Avenue is now Las Vegas Blvd. in Las Vegas
Yellow Properties:
Marvin Gardens is now the Golden Gate Bridge in San Francisco
Ventnor Avenue is now Hollywood in Los Angeles
Atlantic Avenue is now the French Quarter in New Orleans
Red Properties:
Illinois Avenue is now Disney World in Orlando
Indiana Avenue is now Waikiki Beach in Honolulu
Kentucky Avenue is now Camelback Mountain in Phoenix
Orange Properties:
New York Avenue is now Pioneer Square in Seattle
Tennessee Avenue is now Johnson Space Center in Houston
St. James Place is now South Beach in Miami
Magenta Properties:
Virginia Avenue is now the Liberty Bell in Philadelphia
States Avenue is now Red Rocks Amphitheatre in Denver
St. Charles Place is now Centennial Olympic Park in Atlanta
Light Blue Properties:
Connecticut Avenue is now the Mall of America in Minneapolis
Vermont Avenue is now the Gateway Arch in St. Louis
Oriental Avenue is now the Grand Ole Opry in Nashville
Purple (Low-Rent) Properties:
Baltic Avenue is now Texas Stadium in Dallas
Mediterranean Avenue is now Jacobs Field in Cleveland
If you want to understand the American attitude toward capitalism, look inside your hall closet. There's probably a Monopoly game in there somewhere. Monopoly is the most popular board game in history, with more than 250 million copies sold. —Time Magazine
Here's what the new Monopoly game board looks like:
…Truly a sign of the times!
See for yourself… Play the online demo! (I believe if you keep rolling the dice long enough, you eventually stop land on every single spot on the board.)
You can even print your own Monopoly money!
There are 8 brand new tokens:
a New Balance tennis shoe
a Starbucks coffee cup
a Motorola RAZR phone
a laptop computer
a Toyota Prius hybrid vehicle
an airplane
an order of McDonald's french fries
a Labradoodle dog
Here's more about Labradoodles and other hybrid dog breeds with funny names.
We were always either the top hat or the thimble. We don't want to be french fries! We like owning railroads no one has ever heard of! It's not fair! And if you think that's bad, wait until you hear about the British version: it — gasp — has no money, but instead gives everyone a Visa debit card. And Hasbro may inflict this horror on the American version as well. It's just too horrible to contemplate. —Shopping Blog

 
A Few Other Changes…
The money starts with $10,000 bills and goes up to $5 million.
The little plastic houses are blue and gray.
The Community Chest and Chance cards have been modernized with items about reality TV, computer viruses, identity theft, insider trading, and such.
Pass "GO" and collect $2 million.
The 4 railroads (B&O, Pennsylvania, Reading, and Short Line) have been replaced by the 4 busiest airports in the U.S.: Atlanta Hartsfield-Jackson, New York's Kennedy, Los Angeles and Chicago's O'Hare.
Did You Know?
The total amount of money in a standard Monopoly game is $15,140.
But wait, there's more!…
The 3 most-landed-on properties are Illinois Avenue, "GO" and the B&O Railroad.
Learn more Monopoly Fun Facts!
Monopoly Controversy & Strategies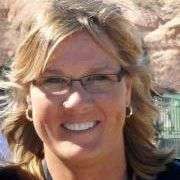 I grew up playing board games and card games. It's a pastime that I've never outgrown. The games mentioned here are great for your home parties, family game nights, camping outings, and RV road trips. (We play some of them on our cross-country motorcycle trips, too.) When I'm not playing games with my friends and family, you will find me at the corner of Good News & Fun Times as publisher of The Fun Times Guide (32 fun & helpful websites).