Messy food games for kids are fun — but only if they take place in an area that cannot be damaged by smeared food, such as the backyard.
The following amusing competitions are an out-of-the-ordinary way to liven up your next party and a creative way to use up leftover food.
For the best results, warn guests ahead of time to wear old clothes and shoes if they want to participate in the activities.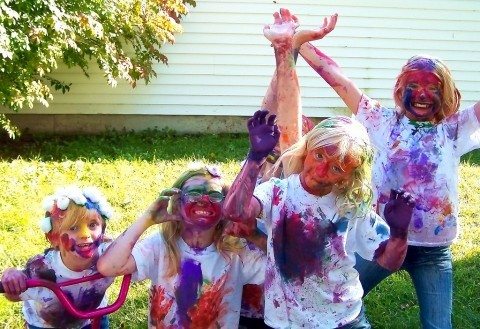 The following messy food games can be adapted for kids of all ages — from toddlers to pre-teens.
Have fun!
Jello Fishing Game
Guests will get their toes and feet dirty in this fun fishing game. Fill a large plastic tub with yellow gelatin and small plastic fish toys. Each player rolls up his pants and sticks one foot into the tub. The player has 20 seconds to try to remove as many plastic fish from the Jello as possible, using only his toes.
Pudding Race
Get messy with a sweet chocolate treat during a pudding race. Fill a pie tin (or plate) with chocolate pudding for each player. Also give each player an empty container. Players sit at a table with their hands tied behind their backs. When the race starts, each child must use her mouth to scoop up pudding from the full tin (or plate) and place it in the empty container. The first player to fill her empty container with pudding wins the game.
Here's another version of a messy pudding game.
Food Twister Game
Add a food twist to a basic game of Twister to turn the activity into a messy and amusing game for kids. The basic game consists of a large white sheet covered in a grid of large colored dots. A divided wheel of colors with a spinner in the middle determines which dot the player must touch and what arm/leg to use. Food twister adds a slippery challenge to the game by covering each dot with slick food, such as ketchup for the red dot, mustard for the yellow, blueberry jelly for the blue, and cold pea soup for the green. As the game progresses and the food mixes, it becomes more and more difficult to find the dots and keep from slipping off!
Here are other foods you could use for the colored dots.
Marshmallow Shoot
Get gross and have kids use their noses to play a marshmallow-shoot game. The game rules require players to stand in a line. Each player receives 3 mini marshmallows for 3 shots. The player places a marshmallow in his nose, closes the other nostril with his finger, and tries to blow the marshmallow across the room. The player that shoots his marshmallow the farthest across the area wins.
Or you could make your own  marshmallow shooters!
Whipped-Cream Finger Painting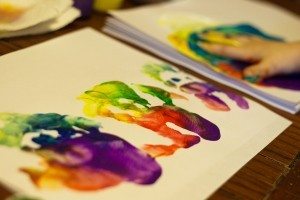 Inspire creativity in kids with a sticky food-painting race. Set out whipped-cream-filled bowls with a little food coloring mixed in to create a red "paint" bowl, blue "paint" bowl and so on. Each player dips her fingers into different colors of "paint" to create a clown picture on a piece of paper. The first player to finish her picture wins. Kids enjoy the creative aspect of the game and may want to continue painting pictures after the race.
More Fun Kids Outdoor Games